Flower Glossary is reader-supported. When you buy through links on our site, we may earn an affiliate commission.
The edelweiss flower is not a common flower that is often seen growing in gardens but its unique bloom makes it a perfect gift to give to a loved one.
Found in the mountain regions within Germany, Switzerland and Austria, Edelweiss is a flower that has a shorter life span but is revered by flower lovers around the world. But what does the Edelweiss flower symbolize?
We've researched everything you need to know about this beautiful flower.
Found in the German mountains, the edelweiss flower is known as Leontopodium alpinum and grows between 1,500 to 3,000 meters.
It's not found in many places in the world making it highly desired among avid florists. As a member of the sunflower and daisy families, this flower looks beautiful as part of summer arrangements. 
Edelweiss symbolization
The edelweiss flower symbolizes love and devotion due to its short life span and native location. Found in the rockiest areas within the Alps, it is a difficult flower to find in bloom so men would search for it and give it to their intended as a token of their true love for them.
In turn, it also symbolizes adventure, sacrifice and patriotism as well. Edelweiss is only found in its signature white coloring and the name itself means "noble" and "white" in German.
It is viewed as a birth flower for July, August and September as it only grows during these months. 
Cultural significance
The edelweiss flower not only looks beautiful and is desired due to its connotations with love but it also has medicinal properties as it can reduce the impacts of aging as well as help with certain allergic reactions.
Due to its desirability, there are laws that disallow people from picking the flower and can only be picked by certain people. Therefore, most of the time it is left to grow in the world. 
In terms of cultural significance, the main attribute of the edelweiss flower is that it remains a popular gift for those who wish to express their love for another.
There is also an Austrian brewery that has taken its name from the flower as well.
Perhaps the most well known culturally significant moment for the edelweiss flower is the beautiful song from The Sound of Music in which Captain Von Trapp expresses his love for Maria and his family by singing the song "Edelweiss" in which the flower is used as a metaphor for love.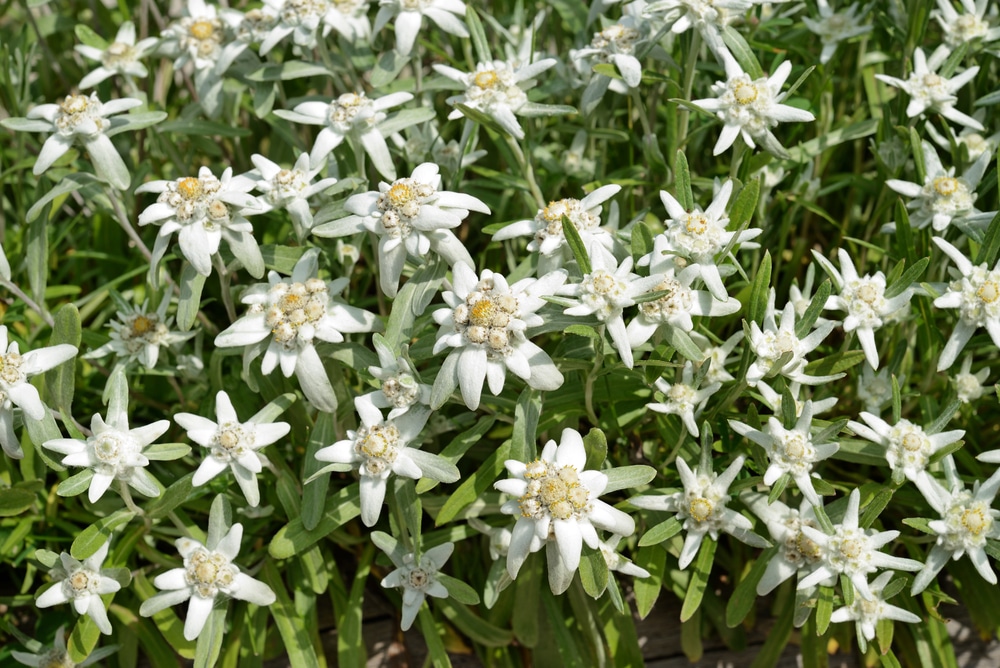 Edelweiss tattoo symbolism
For those who wish to choose a floral design for a tattoo, the edelweiss is a great choice as it can have a variety of meanings when chosen.
They can symbolize a marriage or a love that someone has for another. Whether chosen as a flower for your garden or as a tattoo, the representation of the edelweiss is clear.
Synonymous with love and happiness, this is a flower that not only looks unique and beautiful but is the perfect dedication to those who you love the most. 
When can you give someone an edelweiss flower?
Unlike other flowers that are intended for specific occasions or anniversaries, the edelweiss doesn't have a specific time when you should give it to your intended.
An appropriate choice for any occasion and for any person you hold dear, the edelweiss flower is the perfect gift for expressing your love for another. If you know someone who likes to grow medicinal plants, it can be a great addition to their collection as well.
What is so wonderful and special about the edelweiss flower is how well it can suit any gardening space and bring its unique touch to any environment.
Whether you are purchasing it for a gardening enthusiast or for someone who you care about, the edelweiss flower is a gift that is sure to put a smile on their face.