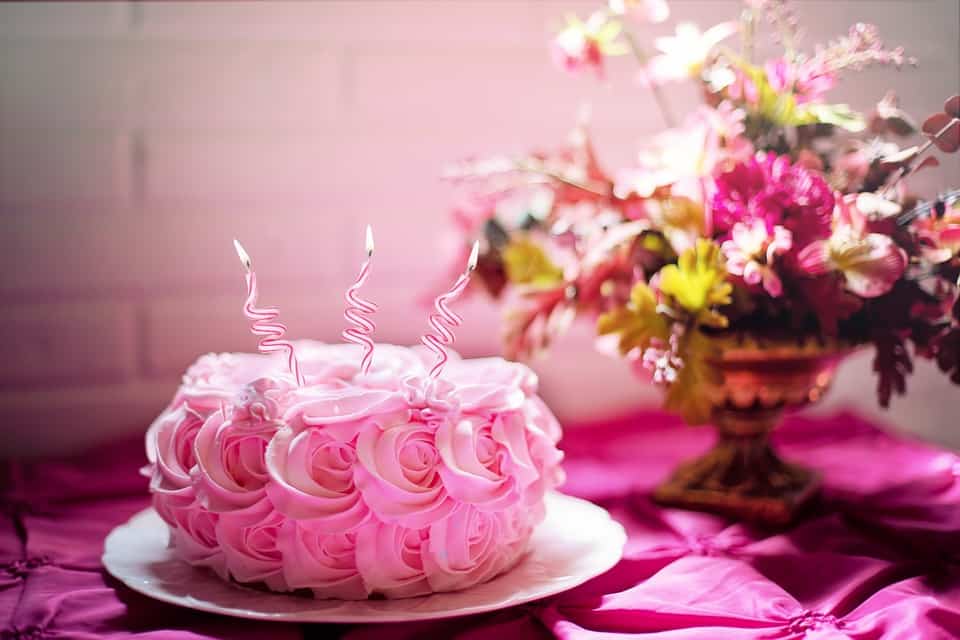 Birthdays are a popular time to send flowers, but sometimes you need an idea for something to write in a card or to post on their facebook page! We've compiled a list of 175 birthday quotes perfect for wishing your favorite person a happy birthday. Be sure to check out our birthday flowers post if you are thinking of sending a gift.
There are two great days in a person's life – the day we are born and the day we discover why.
– William Barclay
A Birthday is a new beginning –
A birthday is the first day of another lovely year,
A year of new tomorrows that is shining, bright and clear,
A year of possibilities as endless as the sky, and a chance to meet the challenges in everything you try. – Unknown
"Don't regret another birthday, the good news is that you are alive and can celebrate it." – Catherine Pulsifer
"Don't just count your years, make your years count." – George Meredith
I believe that no matter what condition you are in when someone close to your heart remembers your birthday and wishes you a happy birthday, you feel happy. – A. Singla
"To me a birthday means celebrating the presence of an individual in our lives." – Meena Bajaj
"Today is the oldest you have been, and the youngest you will ever be. Make the most of it!" – Nicky Gumbel
"A birth-date is a reminder to celebrate the life as well as to update the life." – Amit Kalantri
"The great thing about getting older is that you don't lose all the other ages you've been." – Madeleine L'Engle
"Birthdays, birthdays, birthdays – – everybody's got one.
Most kids wish they had more.
Older people wish they had fewer and find them a bore." – Sally Huss
"Today you have added another candle of knowledge and wisdom to your life. May it give you the power to enlighten the whole world. On your birthday, I wish you joy and happiness." – Debasish Mridha
"You were born an original. Don't die a copy." – John Mason
"You know you're getting old when you get that one candle on the cake. It's like, 'See if you can blow this out.'" – Jerry Seinfeld
"A birthday is just another day where you go to work and people give you love. Age is just a state of mind, and you are as old as you think you are. You have to count your blessings and be happy." – Abhishek Bachchan
"There are two attitudes you can have when it comes to your birthday:
1. be thankful you have lived another year.
or, 2. complain about being a year older." – Catherine Pulsifer
"We have to be able to grow up. Our wrinkles are our medals of the passage of life. They are what we have been through and who we want to be." – Lauren Hutton
"Just remember, once you're over the hill, you begin to pick up speed." – Charles Schulz
"An angel you have been to me. Today, on this special day I want you to know how much you are loved and appreciated every day of the year. Happy Birthday." – Catherine Pulsifer
"To me, fair friend, you never can be old, for as you were when first your eye I eye'd, such seems your beauty still." – William Shakespeare
"When you were born, you cried and the world rejoiced. Live your life so that when you die, the world cries and you rejoice." – Cherokee Expression
"Birthdays are inevitable, beautiful and very particular moments in our lives! Moments that bring precious memories back, celebrate the present times and give hope for the future." – Bsbr Arish
"May you receive many gifts, and may your day be joyous, and best of all may you be surrounded by family and friends. May all you wish for come true." – Theodore W. Higginsworth
"Today you are another year older, and we know how fast time flys as we get older, therefore, live each day and be happy!" – Kate Summers
"The way I see it, you should live everyday like its your birthday." – Paris Hilton
Your birthday is the beginning of your own personal new year. Your first birthday was a beginning, and each new birthday is a chance to begin again, to start over, to take a new grip on life. – Wilfred Peterson
"A birthday is not a day to fear. It is a day to celebrate and look forward to the coming year." – Byron Pulsifer
"A birthday is the anniversary of your birth. It's the time most of us reflect over the past year and what we hope for in the coming year." – Claudia T Hudson
"Today, be aware of how you are spending your 1,440 beautiful moments, and spend them wisely." – Unknown
"A milestone birthday usually means taking the time to consider your life, your goals and what you have accomplished or not accomplished in your life up to this point." – Jenny Mays
"May the love of family surround, the enthusiasm of friends be with you, and the joy of another year to look forward be foremost in your thoughts on this day of your birthday." – Unknown
"A child whose birthday is coming up is so excited, they count down the days. But as we get older we seem to lose the excitement. We need to rethink and be happy we have reached another birthday." – Theodore W. Higginsworth
The secret of staying young is to live honestly, eat slowly, and lie about your age. – Lucille Ball
"Our birthdays are feathers in the broad wing of time." – Jean Paul Richter
"All the world is birthday cake, so take a piece, but not too much." – George Harrison
"Birthdays come but once a year, celebrate and be of good cheer." – Robert Rivers
"We don't stop playing because we grow old; we grow old because we stop playing." – George Bernard Shaw
"Success is like reaching an important birthday and finding you're exactly the same." – Audrey Hepburn
"Every birthday is a gift. Every day is a gift." – Aretha Franklin
"You know you're getting old when the candles cost more than the cake." – Bob Hope
"The day which we fear as our last is but the birthday of eternity." – Lucius Annaeus Seneca
"There is still no cure for the common birthday." – John Glenn
"It takes a long time to become young." – Pablo Picasso
"Every year on your birthday, you get a chance to start new." – Sammy Hagar
"A diplomat is a man who always remembers a woman's birthday but never remembers her age." – Robert Frost
"Age is a case of mind over matter. If you don't mind, it don't matter." – Satchel Paige
"God gave us the gift of life; it is up to us to give ourselves the gift of living well." – Voltaire
"There are 364 days when you might get unbirthday presents…and only one for birthday presents, you know." – Lewis Carroll
"Your children need your presence more than your presents." – Jesse Jackson
Love the giver more than the gift." – Brigham Young
"I think, at a child's birth, if a mother could ask a fairy godmother to endow it with the most useful gift, that gift should be curiosity." – Eleanor Roosevelt
"If I could save time in a bottle The first thing that I'd like to do is to save every day." – Jim Croce
"I wanted to buy a candle holder, but the store didn't have one. So I got a cake." – Mitch Hedberg
"We have to be able to grow up. Our wrinkles are our medals of the passage of life. They are what we have been through and who we want to be." – Lauren Hutton
"Youth is happy because it has the ability to see beauty. Anyone who keeps the ability to see beauty never grows old." – Franz Kafka
"The best way to remember your wife's birthday is to forget it once." – H.V. Prochnow
"I think all this talk about age is foolish. Every time I'm one year older, everyone else is too." – Gloria Swanson
"Grow old along with me! The best is yet to be." – Robert Browning
"You are only young once, but you can be immature for a lifetime." – Germaine Greer
"Nature gives you the face you have at 20, but it's up to you to merit the face you have at 50." – Coco Chanel
"Men are like wine: some turn to vinegar, but the best improve with age." – Pope John XXIII
"Old age is like everything else. To make a success of it, you've got to start young." – Fred Astaire
"Why is a birthday cake the only food you can blow on and spit on and everybody rushes to get a piece?" – Bobby Kelton
"Middle age is when a guy keeps turning off lights for economical rather than romantic reasons." – Eli Cass
"Nice to be here? At my age it's nice to be anywhere." – George Burns
"As you get older, three things happen: The first is your memory goes, and I can't remember the other two." – Norman Wisdom
"Growing old is like being increasingly penalized for a crime you have not committed." – Anthony Powell
"A party without cake is just a meeting." – Unknown
From our birthday, until we die,
Is but the winking of an eye. – William Butler Yeats
We are always the same age inside. – Gertrude Stein
The older the fiddler, the sweeter the tune. – English Proverb
No wise man ever wished to be younger. – Jonathan Swift
One of the signs of passing youth is the birth of a sense of fellowship with other human beings as we take our place among them. – Virginia Wolf
The greatest comfort of my old age, and that which gives me the highest satisfaction, is the pleasing remembrance of the many benefits and friendly offices I have done to others. – Marcus Kato
The best birthdays of all are those that haven't arrived yet. – Robert Orben
Grow old along with me!
The best is yet to be, the last of life, for which the first was made. – Robert Browning
Inside every older person is a younger person –
wondering what the hell happened. – Cora Harvey Armstrong
Old age isn't so bad when you consider the alternative. – Maurice Chevalier
Getting old ain't for sissies. – Bette Davis
Let us respect gray hairs, especially our own. – J. P. Sears
The older I get, the greater power I seem to have to help the world; I am like a snowball – the further I am rolled, the more I gain. – Susan B. Anthony
You can't help getting older but you don't have to get old. – George Burns
At 20 years of age the will reigns; at 30 the wit; and at 40 the judgment. – Ben Franklin
Live as long as you may. The first twenty years are the longest half of your life. – Robert Southey
Time and tide wait for no man,
but time always stands still for a woman of thirty. – Robert Frost
Thirty-five is when you finally get your head
together and your body starts falling apart. – Caryn Leschen
After 30, a body has a mind of its own. – Bette Midler
A man thirty years old, I said to myself, should have his field of life all ploughed, and his planting well done; for after that it is summer time. – Lew Wallace
What most persons consider as virtue, after the age of 40 is simply a loss of energy. – Voltaire
The first forty years of life give us the text: the next thirty supply the commentary. – Arthur Schopenhauer
Forty is the old age of youth; fifty is the youth of old age. – French Proverb
The man who views the world at fifty the same as he did at twenty has wasted thirty years of his life. – Muhammad Ali
Life would be infinitely happier if we could only be born at the age of eighty and gradually approach eighteen – Mark Twain
Birth and Death are the two noblest expressions of bravery. – Kahlil Gibran
Birthdays are good for you. Statistics show that the people who have the most live the longest. – Larry Lorenzoni
Birthdays are nature's way of telling us to eat more cake. – Edward Morykwas
Each ten years of a man's life has its own fortunes, its own hopes, its own desires. – Goethe
How far that little candle throws his beams! – William Shakespeare
I still have a full deck; I just shuffle slower now. – Unknown
I intend to live forever. So far, so good! – Steven Wright
Life is a moderately good play with a badly written third act. – Truman Capote
Looking 50 is great, if you're 60. – Joan Rivers
Middle age is when your age starts to show around your middle. – Bob Hope
The years between 50 and 70 are the hardest. You are always being asked to do things, and yet you are not decrepit enough to turn them down. – T.S. Eliot
"I eat cake because it's somebody's birthday somewhere." – Unknown
"How old would you be if you didn't know how old you are?" – Satchel Paige
"To me – old age is always ten years older than I am." – Bernard Baruch
"When someone asks if you'd like cake or pie, why not say you want cake and pie?" – Lisa Loeb
"You are never too old to set another goal or to dream a new dream." – Les Brown
"It is lovely, when I forgot all birthdays, including my own, to find that somebody remembers me." – Ellen Glasgow
"The secret to eternal youth is arrested development." – Alice Roosevelt Longworth
The advantage of old age is that you get to spread your love to many others. – Unknown
A birthday is just another day where you go to work and people give you love. Age is just a state of mind, and you are as old as you think you are. You have to count your blessings and be happy. – Abhisek Bachchan
With mirth and laughter, let old wrinkles come. – William Shakespeare
The year you were born marks only your entry into the world. Other years where you prove your worth, they are the ones worth celebrating. – Jarod Kintz
Because time itself is like a spiral, something special happens on your birthday each year: The same energy that God invested in you at birth is present once again. – Menachem Mendel Schneerson
It is not how old you are, but how you are old. – Marie Dressler
My Birthday! What a different sound that word had in my youthful ear. – Malcolm Forbes
A birthday is just the first day of another 365-day journey around the sun. Enjoy the trip. – Unknown
Things to ponder every Birthday: If we could be twice young and twice old we could correct all our mistakes. – Euripedes
Your birthday is a special time to celebrate the gift of 'you' to the world. – Unknown
Age is just a number. It's totally irrelevant unless, of course, you happen to be a bottle of wine. – Joan Colling
If you lie about your age on your birthday, make sure you choose a comfortable number. – Unknown
Real birthdays are not annual affairs. Real birthdays are the days when we have a new birth. – Ralph Parlette
"I grabbed a pile of dust, and holding it up, foolishly asked for as many birthdays as the grains of dust, I forgot to ask that they be years of youth. " – Ovid, Metamorphoses
"Birthdays could be such a bummer when you were older than the country you lived in." – Lynsay Sands, A Quick Bite
"deep down I believe my year was a special year: it produced me." – Ned Vizzini
"I was brought up to respect my elders, so now I don't have to respect anybody." – George Burns
"A birth-date is a reminder to celebrate the life as well as to update the life." – Amit Kalantri, Wealth of Words
"Link says if a girl says not to get her a birthday present that means get me a birthday present and make sure it's jewelry." – Kami Garcia, Beautiful Creatures
"I don't mind getting older; it's a privilege denied to so many!" – Chris Geiger
"Happy birthday," she said. "And next time? Eat the stupid cupcake." – Rachel Caine, Let Them Eat Cake
"The cake had a trick candle that wouldn't go out, so I didn't get my wish. Which was just that it would always be like this, that my life could be a party just for me." – Janet Fitch, White Oleander
"The universe wanted you to celebrate and appreciate your life so every year she gave you a birthday." – Debasish Mridha
"I see birthdays as a reward for having shown up 365 in a row. It's like getting a badge for attendance." – Gina Barreca
"You can plant a tree to celebrate a birthday, an anniversary, a promotion or a business success. Tree hugging is the easiest yoga art to connect you with nature." – Amit Ray, Yoga The Science of Well-Being
"I never wish to celebrate
The year of my birth,
For fear lest I wake,
By the clinking of glasses and noisy mirth,
All those who sleep in memory's vaults." – Isa Ismayilzade
"Two days are the most important days of your life, first is the day when you were born and second is the day when you realized that you were never born." – Sw. Chidananda Tirtha
"To fill your life with joy and happiness, the greatest gift that you can give is love and kindness. Wishing you a memorable birthday!" – Debasish Mridha
"Birthdays were made for going wild over the people we think are amazing." – Richelle E. Goodrich, Slaying Dragons
"Entrepreneurs don't have weekends or birthdays or holidays. Every day is my weekend, my birthday, my holiday. OR, every day is my work day. Mostly it's a choice." – Richie Norton
"The only way that getting older can be a bad thing is if you are not fully living in the moment now." – Andrena Sawyer
"Birthday should be considered as a unit of measurement to measure our present status toward success!" – Mohith Agadi
"The day you were born
Heaven wept at its great loss,
Earth joyed at its gain." – Richelle E. Goodrich, Slaying Dragons
"May your birthday be as pleasant and awesome as you always are." – Debasish Mridha
"The circumstances surrounding your birth are not as important as the opportunity to live life." – Lailah Gifty Akita, Think Great: Be Great!
"Today you are fulfilling another year of life and I will do everything to make it a memorable day for you." – Auliq Ice
"A happy birthday is measured not in the amount of gifts one gets, but in the amount one is loved." – Todd Stoker
"Live your life so you don´t have to have any regrets when you throw your 70 year old birthday party" – Herdis Pala
"Birthdays;They never cease to exist, and like birthdays you will never cease to exist in my heart." – Xela Ffronrims
"The birth of a child is a joy to the parent and the world." – Lailah Gifty Akita
"You were born and with you endless possibilities, very few ever to be realized. It's okay. Life was never about what you could do, but what you would do. " – Richelle E. Goodrich, Smile Anyway
"If everybody was treated like they matter — everyday; birthdays wouldn't be so *special.*" – Mokokoma Mokhonoana
"The only day you truly wish to spend being a good person is your birthday." – Pratik Akkawar
"Last week the candle factory burned down. Everyone just stood around and sang, 'Happy Birthday." – Steven Wright
"Today is my birthday and I'm very happy, not because it's my birthday today…I'm happy because I have paid one more installment of my life." – Gauri Shankar Gupta
" Another adventure filled year awaits you. Welcome it by celebrating your birthday with pomp and splendor. Wishing you a very happy and fun-filled birthday!" – Unknown
"Happy birthday! Your life is just about to pick up speed and blast off into the stratosphere. Wear a seat belt and be sure to enjoy the journey. Happy birthday!" – Unknown
Count not the candles…see the lights they give. Count not the years, but the life you live. Wishing you a wonderful time ahead. Happy birthday." – Unknown
"Happy birthday! May your Facebook wall be filled with messages from people you never talk to." – Unknown
"On your birthday, I thought of giving you the cutest gift in the world. But then I realized that is not possible, because you yourself are the cutest gift in the world." – Unknown
"Just wanted to be the first one to wish you happy birthday so I can feel superior to your other well-wishers. So, happy birthday!" – Unknown
"May the joy that you have spread in the past come back to you on this day. Wishing you a very happy birthday!" – Unknown
"You're older today than yesterday but younger than tomorrow, happy birthday!" – Unknown
"Cheers on your birthday. One step closer to adult underpants." – Unknown
"Happy birthday to one of the few people whose birthday I can remember without a Facebook reminder." – Unknown
"Happy birthday to someone who is smart, gorgeous, funny and reminds me a lot of myself… from one fabulous chick to another!" – Unknown
"Don't get all weird about getting older! Our age is merely the number of years the world has been enjoying us!" – Unknown
"It's birthday time again, and wow! You're a whole year older now! So clown around and have some fun to make this birthday your best one. Happy birthday!" – Unknown
"Congratulations on being even more experienced. I'm not sure what you learned this year, but every experience transforms us into the people we are today. Happy birthday!" – Unknown
"When the little kids ask how old you are at your party, you should go ahead and tell them. While they're distracted trying to count that high, you can steal a bite of their cake! Happy birthday!" – Unknown
"Sending you smiles for every moment of your special day…Have a wonderful time and a very happy birthday!" – Unknown
"It's a smile from me… To wish you a day that brings the same kind of happiness and joy that you bring to me. Happy birthday!" – Unknown
"Many years ago on this day, God decided to send an angel to earth. The angel was meant to touch lives and that happened! Happy birthday my sweet angel!" – Unknown
" Happy birthday to you. From good friends and true, from old friends and new, may good luck go with you and happiness too!" – Unknown
"Happy birthday to one of my best friends. Here's to another year of laughing at our own jokes and keeping each other sane! Love you and happy birthday!" – Unknown
We hope you loved our birthday quotes post. If you want to send flowers, check out our list of online florists