Flower Glossary is reader-supported. When you buy through links on our site, we may earn an affiliate commission.
The anemone flower is the darling of the garden. Vivid, wild flowers blowing in the wind and scenting the air. You just can't get enough of them. Luckily, there are more than 200 varieties of anemone flowers. They can grow as small as rock garden miniatures or as tall and sturdy as a hedge. Their blooms can be simple, like a daisy or peony, or oversized and frilly like a mum. Some varieties are perennials and can survive the harsh heat of the Mediterranean. Others thrive in cool temperatures.
The abundant varieties make anemones a popular choice for gardens across the globe. If you're interested in growing them in your own garden, read on. Below we share anemone mythology, as well as popularly grown varieties, and how to care for them.
Anemone Flowers Meaning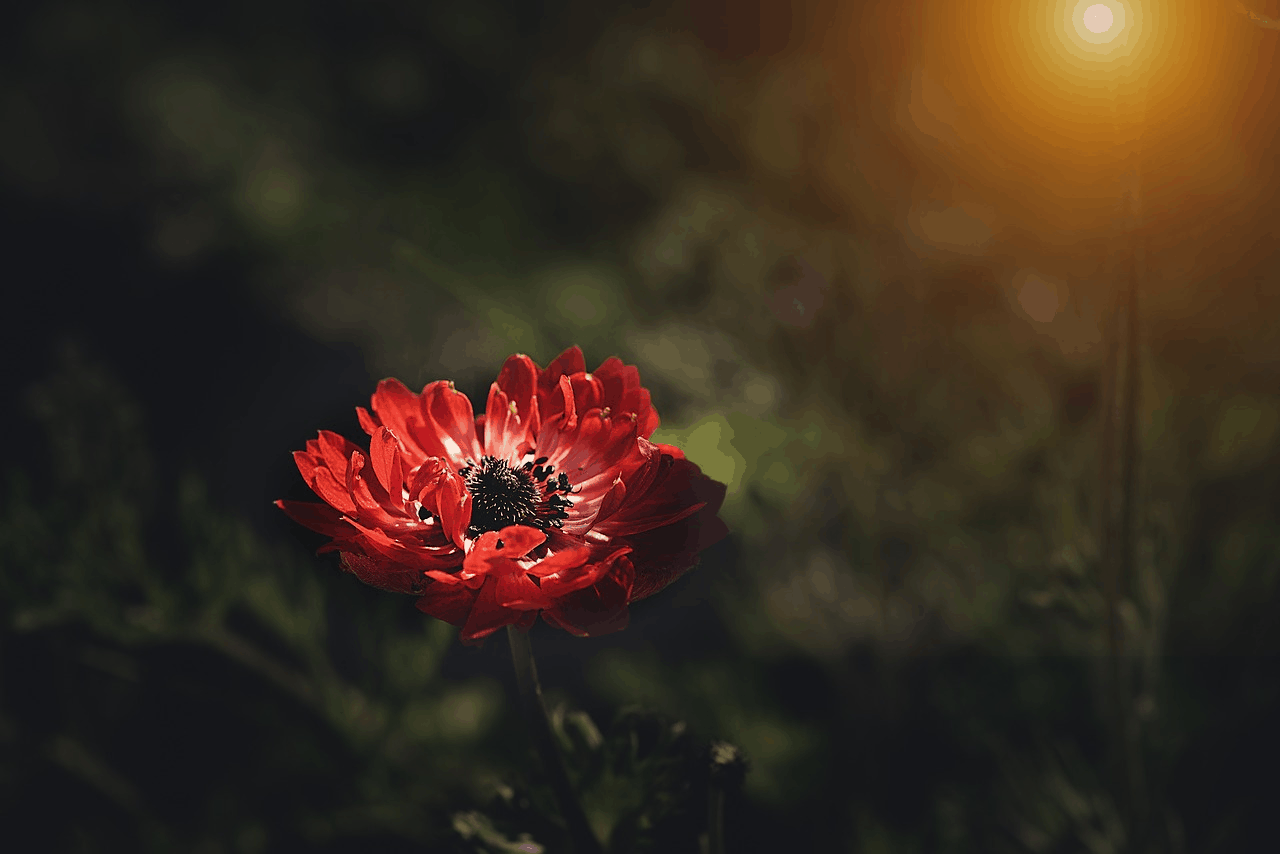 Pin
Throughout time, flowers were a means of communicating emotions. Often sent to mothers, friends, and most commonly lovers. Separated by great distances, pressing flowers was the best way of telling someone you're thinking of them. This was the language of flowers throughout the Victorian era. However, flowers were messages long before this. Used in myths and legends throughout time.
History
Let's start with the word anemone. The anemone flower got its name from the Greek term anemos, which means "winds". The name has to do with the notion in all Greek mythology that each god belongs to a cardinal direction. This is also related to their association between seasons, weather events, and gods. Anemone flowers are also delicate. Fresh petals blow open in the wind, while dead ones fly away.
In Greek mythology, anemones symbolized the love between Adonis and Aphrodite. When the gods killed Adonis over their love affair, Aphrodite wept tears of anemones. Adonis shed his blood on the flowers and stained them red. Similarly, in Christianity, red anemones represent the blood of Christ during the crucifixion. Red anemones are often seen in paintings next to the Virgin Mary while she weeps over the death of Christ. In these regards, anemones have become a symbol of death, or forsaken love.
Beyond these morbid anemone meanings, these flowers also carry lighter symbolism. In the Victorian era, the anemone was a symbol of a secret or unspoken message. These delightful flowers can also mean anticipation, fragility, and relaxation. Anticipation due to the way they close at night and open in the morning. Fragility due to delicate appearance. Relaxation and a reminder to seize the moment due to their wild nature.
30 Popular Types of Anemone Flowers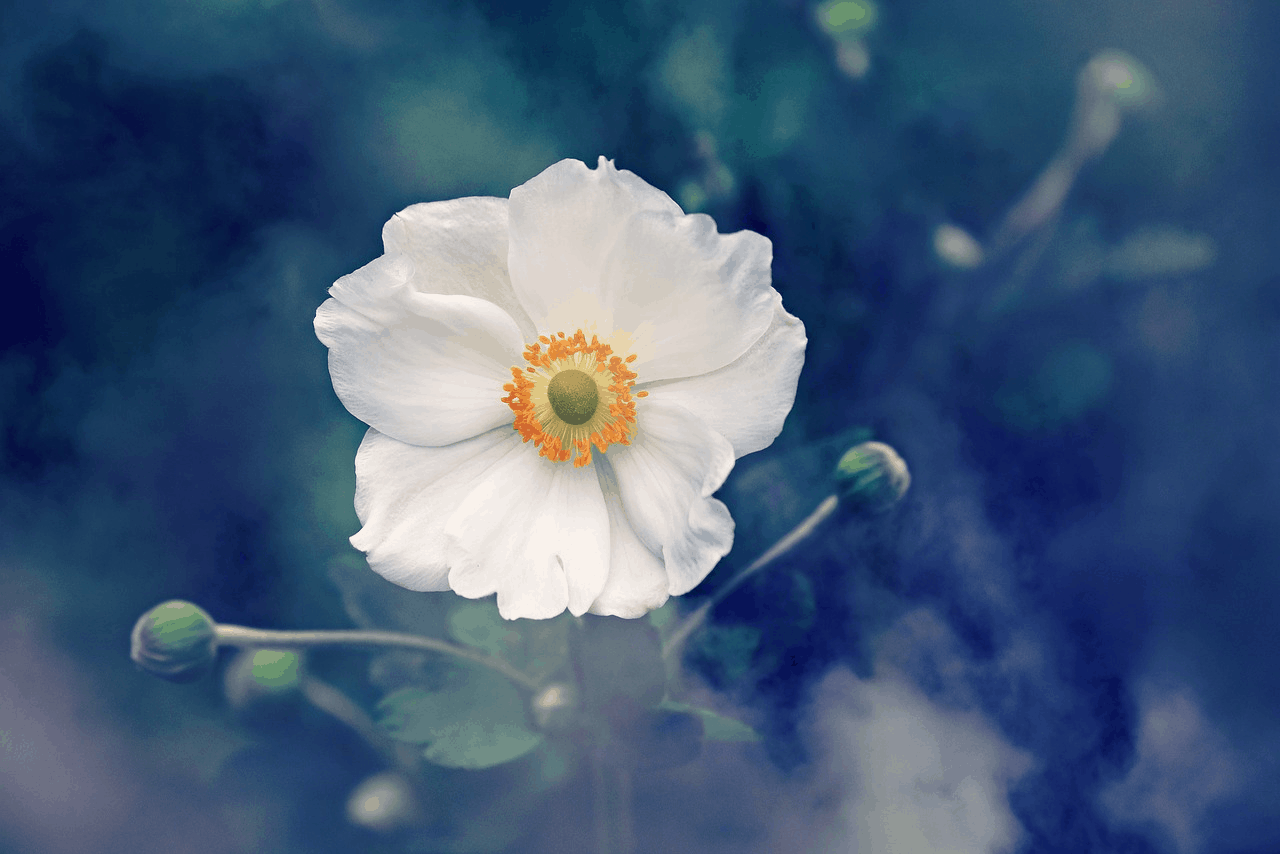 Pin
There are over 200 species of anemones, which belong to the buttercup family (Ranunculaceae). They grow wild in North America, Japan, and parts of Europe, but appear all over the world.
The most common characteristics associated with anemones are their soft, cup-like blossoms. They're often confused with daisies. However, these plants vary wildly from one species to another. To simplify things, anemones fit into two groups: those with fibrous roots and those with tubers. With that in mind, take a look at thirty of the most popular types of anemone flowers to grow in home gardens.
Anemone Blanda
Also known as the Grecian windflower or Balkan anemone, the anemone blanda is a low growing plant grown from corms. Their flowers are similar to a daisy, with leaves that are mounding and finely textured. It's native to Turkey, Lebanon, Syrian, and the northern regions of the Balkans.
They're very popular due to their easy and large flowers in vivid colors. This popularity has driven them into cultivation around the world. Popular cultivars include:
White Splendor Anemone
White splendor has two rows of white sepals and a golden yellow center. They grow to about 8 inches tall and spread furiously. They're perfect for a rock garden.
Blue Shades Anemone
Blue shade anemones have daisy-shaped flowers in shades of purple or blue. They reach heights of only four inches, but spread out like a carpet. This makes them great for underplanting, particularly around tulips.
Rosea 'Radar' Anemone
'Radar' is an herbaceous perennial with pink, daisy-like flowers and white centers. Their dark leaves are deeply toothed and sprout from knobbly tubers. Just like other types of anemone blanda, they are low-growing.
Anemone Coronaria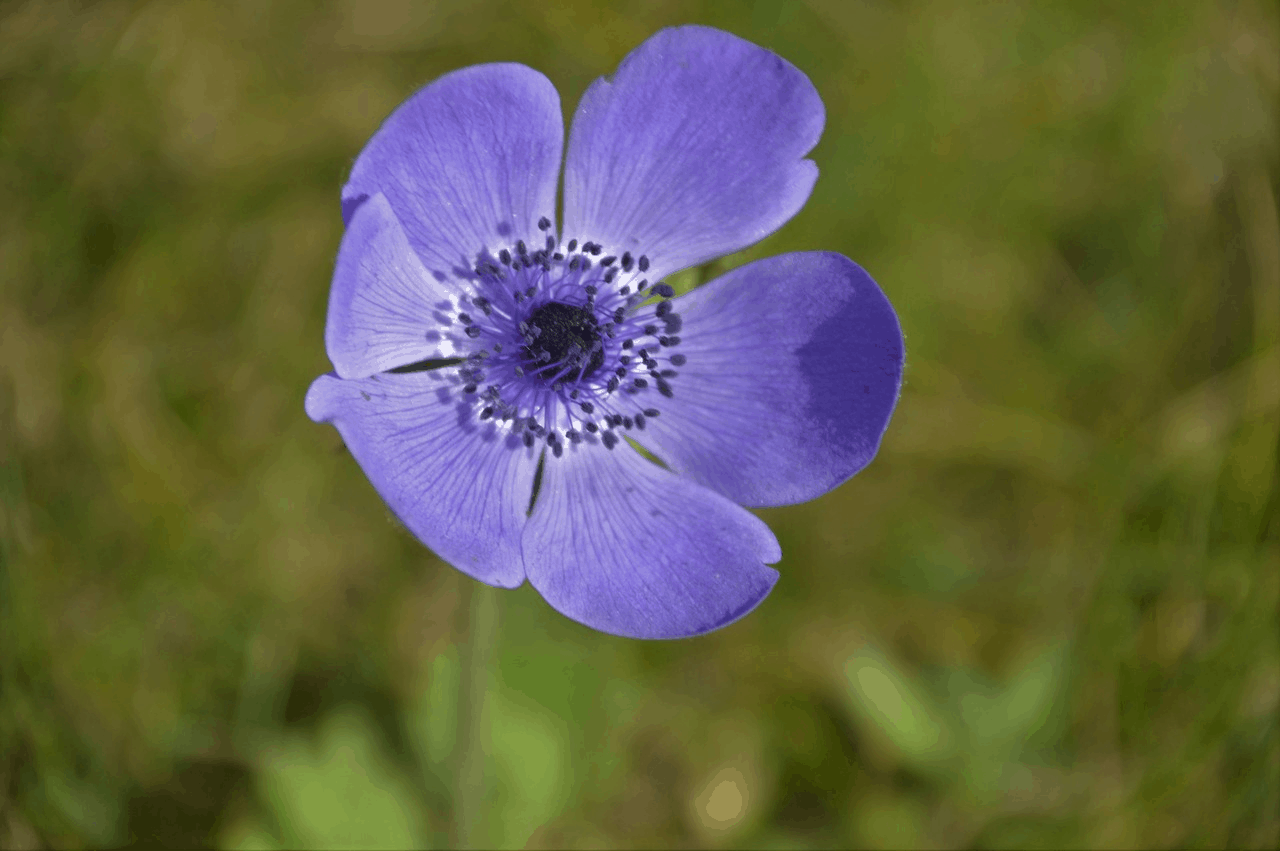 Pin
Anemone coronaria, also known as the Spanish marigold or poppy anemone, have showy flowers with bright petals and dark centers. They can survive in both warm and cool zones, and usually bloom in early spring or late summer. They're a popular cut flower, since they last two to three weeks in a water-filled vase.
The most popular cultivars of anemone coronaria are the following:
St. Brigid Anemone
St. Brigid have ruffled blossoms in a rainbow of colors, which sit atop 12 inch stems. Though their color variety is plentiful, they most often come in purple. Their centers will also stay purple, even with bright red petals. This makes them quite the attraction in a home garden.
De Caen Anemone
De Caen anemones come in a variety of very showy colors, but center around blue and purple tones. They don't grow very tall, only to 8 inches, and they spread out like a carpet. They're great for mass planting, borders, or undergrowth.
The Bride Anemone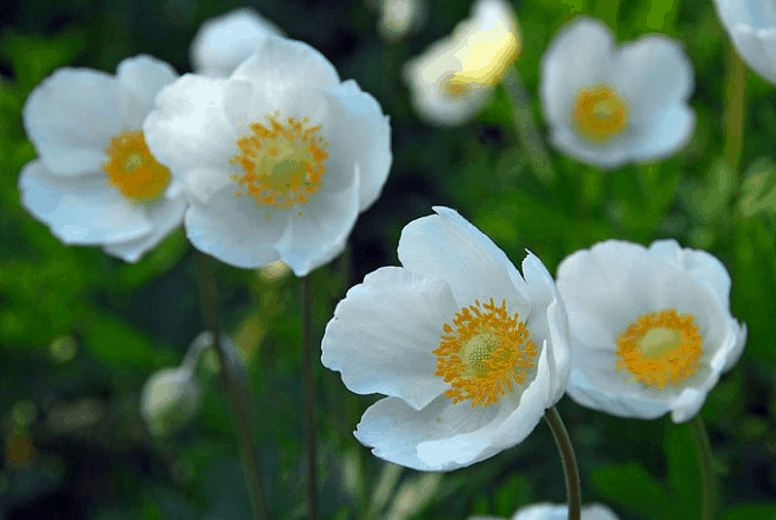 Pin
(photo source: Gardenia.net)
The Bride has large white anemone flowers with bright yellow centers. They are visually dramatic flowers, growing up to 16 inches, but are easy to grow and maintain. They bloom, in late spring and early summer.
Hollandia Anemone
Hollandia have bright and beautiful red anemone flowers. These transition into white and black closer to the center. Their broad petals reach an impressive 16 inches in height. They also have a bounty of bright green foliage below them. They tend to bloom late in spring or early in the summer.
Mr. Fokker Anemone
Mr. Fokker is one of the showiest among all anemones, due to their hard to obtain violet-blue petals. These vibrant flowers are broad and darkly centered. A real statement in any garden. They bloom very early and absolutely love the sun.
Lord Lieutenant Anemone
Lord Lieutenant's have blue anemone flowers that are paper-thin and darkly centered. They have a poppy-like form, but they're much easier to grow than poppies. They only grow 8-10 inches, but they aren't as invasive as other varieties. This, plus their hard to obtain blue hue make them a prime choice in many gardens.
Mount Everest Anemone
Mount Everest's are highly coveted for snowy petals, green stamen, and ruffled petals. Their appearance isn't as delicate as many other anemones, due to double layers of petals. They also love full sun and grow up to 12 inches tall. They're quite noticeable in any garden.
Bordeaux Anemone
Bordeaux anemones are uniquely velvety. Their blossoms are a dramatic red, their centers dark and iridescent. They're a true workhorse in the garden, as well, growing just three months after planting. They're one of the most dramatic, statement-making anemones you can put in your garden.
Japanese Anemone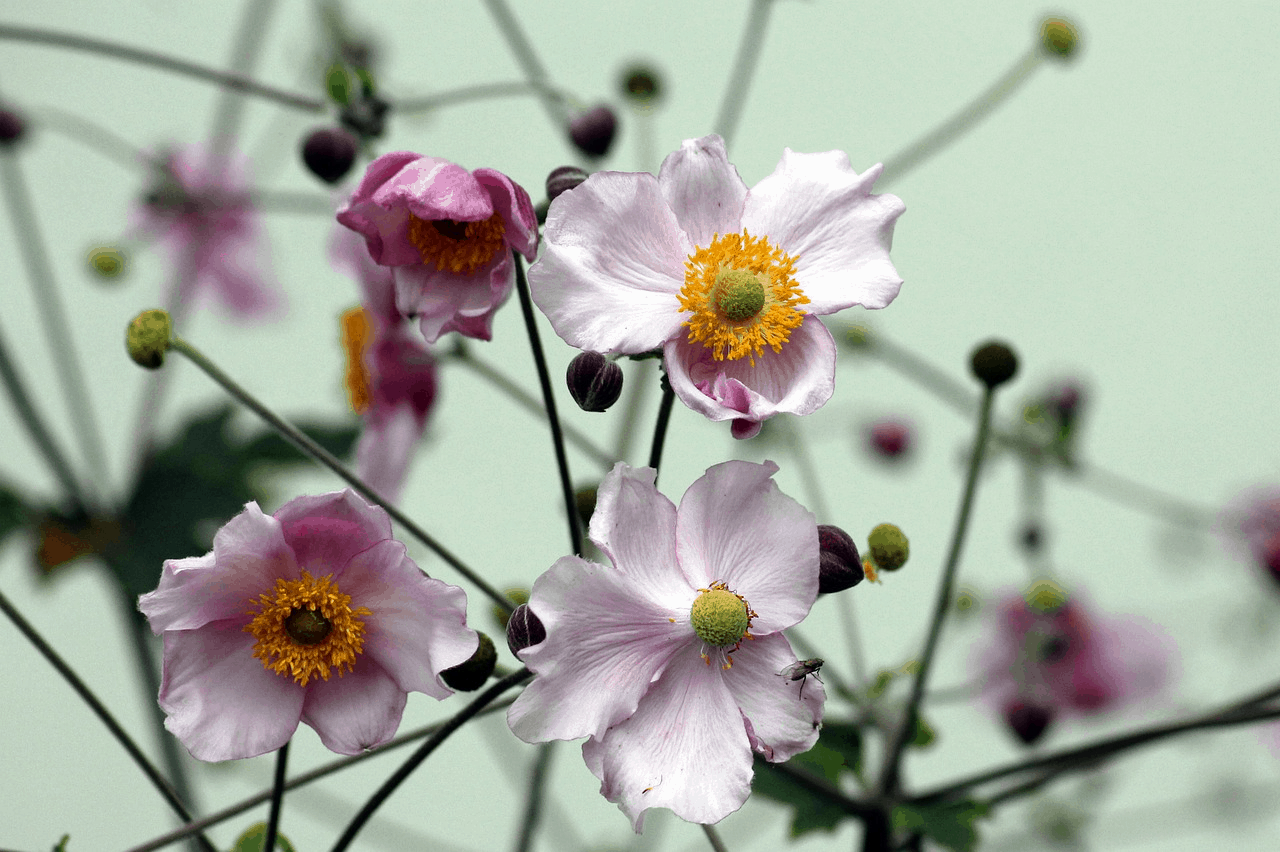 Pin
Also known as anemone hupehensis, or thimbleweed, this anemone grows up to four feet tall. It is the tallest of all varieties. Its flowers are two and a half inches wide, with incredible pink or white petals and yellow centers. They thrive in most regions, with the exception of those with hot and dry conditions. They take a bit of time and effort to establish their root systems, but once there they won't leave.
Some of the most popular cultivars of the Japanese anemone are:
Anemone Praecox
Japan naturalized the Praecox hundreds of years ago, but it is originally native to China. Its dense foliage grows to about a foot tall, while it's wiry stems reach heights of 30 inches. The blossoms are a dark or creamy pink with greenish centers and golden stamens.
Prinz Heinrich Anemone
Prinz Heinrich, or Prince Henry, is a German variety initially bred by Wilhelm Pfitzer. It grows up to 28 inches tall with semi-double pink flowers that spread to nearly 3 inches in diameter. These petals are also quilled, or twisted.
Bowles's Pink Anemone
Bowles's Pink anemones are herbaceous perennials with large, bowl-shaped 5-petal flowers. Each blossom is richly pink with golden stamens, and reach heights of 35 inches. Because of this, they appear a little lopsided. Still, their color and height help them to stand out in summer gardens.
Hadspen Abundance Anemone
'Hadspen Abundance' grows to 2-3' tall. Flower sepals are deep pink edged with pale pink. Originated at Hadspen Garden in Sommerset, England. They are great for woodland gardens, or as a bordering plant. Planting them in mass is optimal, though keep them away from other plants. They can overwhelm them.
Honorine Jobert Anemone
The Honorine Jobert is an old garden hybrid first discovered in France. They grow up to 4 feet tall from fibrous roots. Single flowers sit on top of the sturdy stems, and grow 2-3 inches in diameter. Each flower contains about 6-9 overlapping petals clad in vibrant white. Bright yellow stamens sprout from the center.
Konigin Charlotte Anemone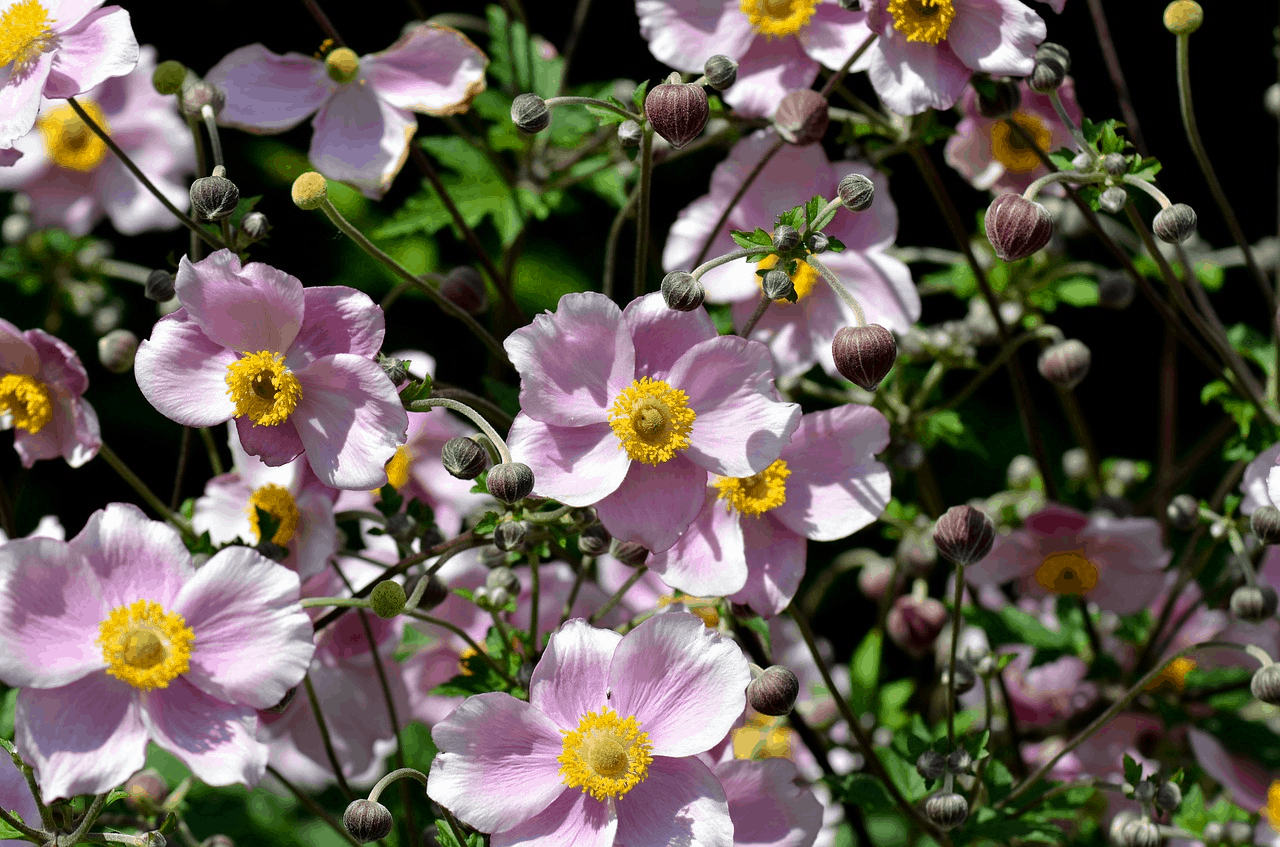 Pin
The Konigin Charlotte grows up to 3 feet tall, with blossoms that spread to 3 inches in diameter. These blossoms bear pink flowers in semi-double arrangements. These pink anemone flowers are somewhat compact.
Pamina Anemone
The Pamina is one of the most common compact anemones. It's beauty rivals many other fall-blooming flowers. Broad, overlapping petals come in deep, rose-pink shades with bright yellow stamens. They tend to like a lot of moisture, though they do need well-drained soil.
September Charm Anemone
September Charm is wiry, but graceful, with stems that grow up to 4 feet tall. In late summer and fall, their flowers bloom in silvery pink with shades of dark rose. These flowers sit atop bountiful dark green foliage.
Rosenchale Anemone
Rosenchale is a very large, pink-purple anemone that sits atop 3-foot stems. It's one of the longest blooming perennials, blooming from late summer through fall. They thrive with a lot of light and moisture, so long as it is well-drained.
Bressingham Glow Anemone
Bressingham Glow grows to an eye-catching three feet. Sitting on top are abundant masses of deep pink flowers and golden stamen. The petals themselves are exceptionally rounded, with a slight, spoon-like curve. They're a summer garden favorite.
Serenade Anemone
Serenade anemones are impressively tall, reaching heights of 40 inches. Sitting atop those wiry stems are gorgeous daisy-like blossoms in shades of pink. They bloom vigorously in late summer, so long as they have a lot of sun and moist soil.
Montrose Anemone
The Montrose is a hardy plant that survives temperatures down to -20 Fahrenheit. They also have a long blooming time at the end of the summer through fall. They grow to three feet tall, with attractive soft pink flowers and golden stamens.
Dreaming Swan Anemone
Smaller than others in this category, the Dreaming Swan grows to only 2 feet. Its blossoms are interesting- tinged pink with undersides of lavender. These colors fade to white during the season. It's a very long-running perennial, blooming early summer through fall.
Pocahontas Anemone
Pocahontas is smaller than other Japanese anemones, growing to only 18 inches tall. It also likes to grow in meadows and prairies in wild clusters of ruffled pink blossoms. They also have fuller golden centers than the average anemone.
Wood Anemone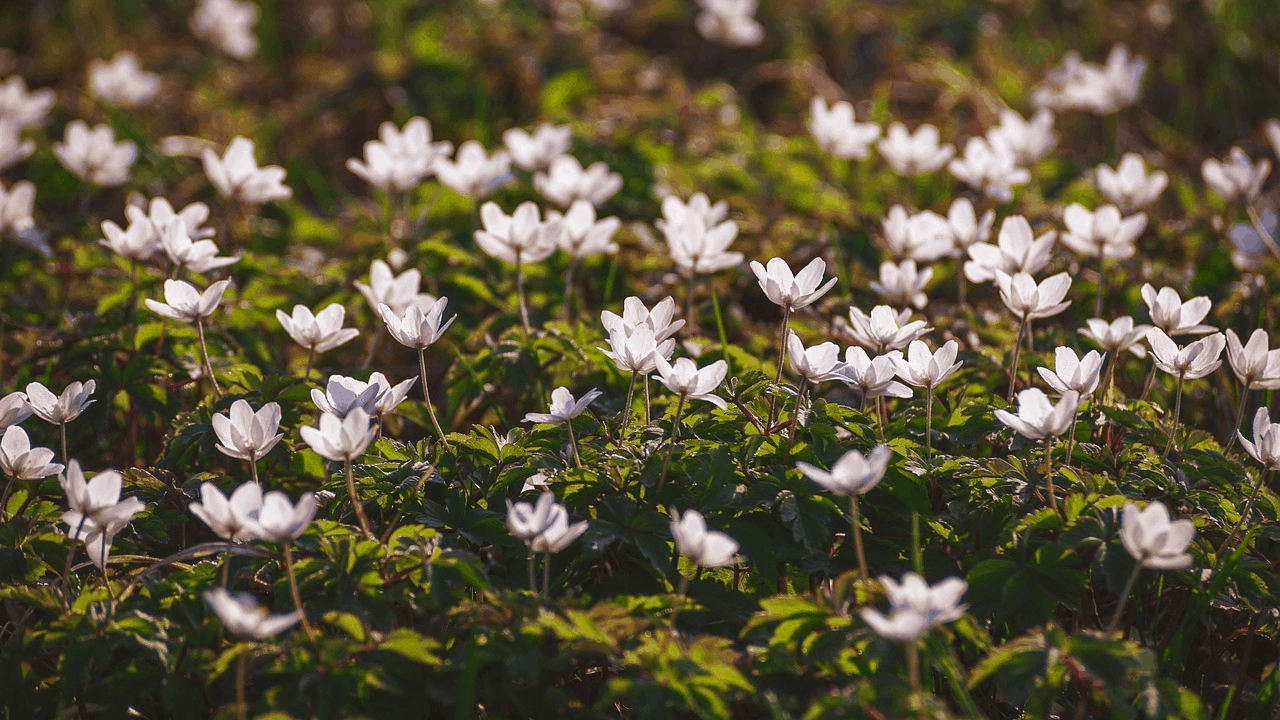 Pin
Wood anemones are herbaceous perennials native to Europe. This variety is a bit smaller than others, reaching average heights of only a foot. That said, they retain the wiry, root-like stems characteristic to many other varieties. The roots themselves spread just below the surface, forming clumps that grow quickly. They produce small, white, star-shaped blossoms- which may occasionally be pink or blue.
Allenii Anemone
The Allenii anemone is rather small, growing to only 8 inches with one inch blossoms. These blossoms come in a very pale lavender shade with tinges of pink. They spread really well, and make great filler in a woodland garden.
Bowles Purple Anemone
Also called the Bowles Mauve, this anemone is a shrubby perennial with a long blooming season. If planted in warmer regions, it will bloom nearly year-round. It's dainty mauve blooms grow in profuse clusters. Their delightful fragrance that attracts butterflies.
Bracteata Pleniflora Anemone
Like other wood anemones, the Bracteata is small and shrubby, growing to only six inches tall. Its blossoms are double white green streaks and frilly green bracts. They're great fillers and border plants, as long as they have some shade and moist soil.
Royal Blue Anemone
As its name suggests, Royal Blue's pop in a rich blue with deeper blue backs and bright yellow stamens. They'll grow like a shrub, up to 8 inches, filling in borders and bald patches in your garden. They like moist soil but can tolerate dyer soil during their dormant times in the summer.
Pallida Anemone
The Pallida is a vigorous, low forming and easily spreading plant. The flowers are typically dainty and white, though they may come in blue, yellow, or pink. It makes great filler in shaded borders or woodland areas.
How To Grow Anemones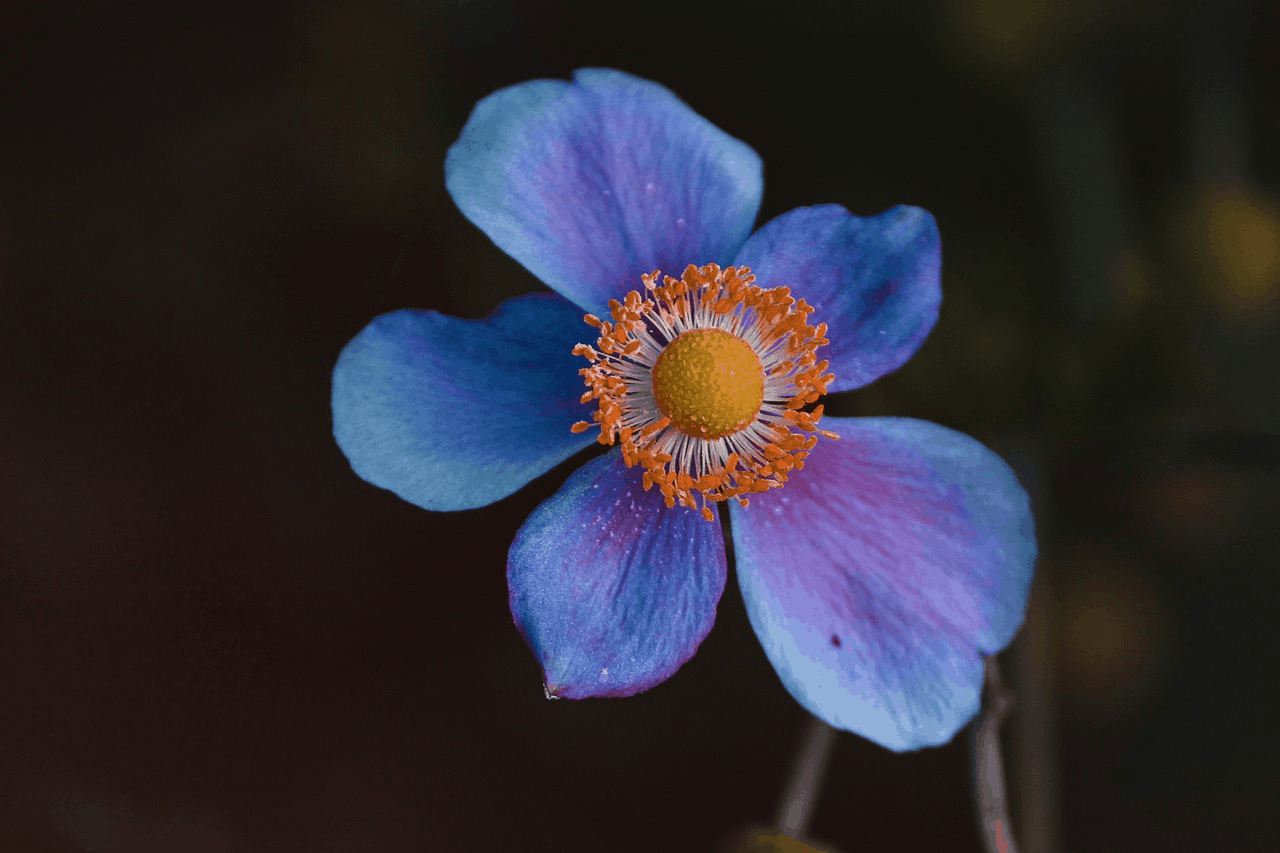 Pin
Growing anemones is fairly easy, requiring little maintenance. Most of them require the same things- partial shade and moist soil. Most varieties can tolerate colder temperatures, blooming closer to fall or late summer. They don't require much help to grow, they can spread quite profusely through your garden. Many of the varieties are invasive and need trimming if they interfere with other plants. Despite this, they're a delightful plant to have in the garden.
Where To Plant
Anemones like to have their own space and can grow invasively. They thrive in pots, planters, or areas of the garden they have to themselves.
When to Plant
Plant anemones in the fall or early spring, depending on the variety. Some will blossom three months after planting.
How to Plant
Varieties with corms needs to be soaked in lukewarm water for 4-6 hours before planting. You should plant them 2-4 inches deep and 3-4 inches apart from each other and in moist, well-drained soil.
Anemones are easy to grow and maintain, and provide brilliant color to your garden. Whether you're growing them as a cut plant or as a way to prolong your blooming season, anemones are a great choice. Learn more about pink flowers, blue flowers, the meaning of flowers, and so much more at Flower Glossary.