Flower Glossary is reader-supported. When you buy through links on our site, we may earn an affiliate commission.
When the family gets together for Thanksgiving (or for any reason), the table is almost always the center of the holiday celebrations. It's the place where the family comes together to fill their bellies with good food, their hearts with laughter, and their minds with new memories and old tales. A place this important deserves Thanksgiving flowers and decor attention, so the eyes are pulled there just as easily as the stomachs.
Give your home and table the attention it deserves with a few of the following unique decor ideas.
Unique Vase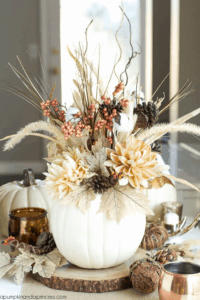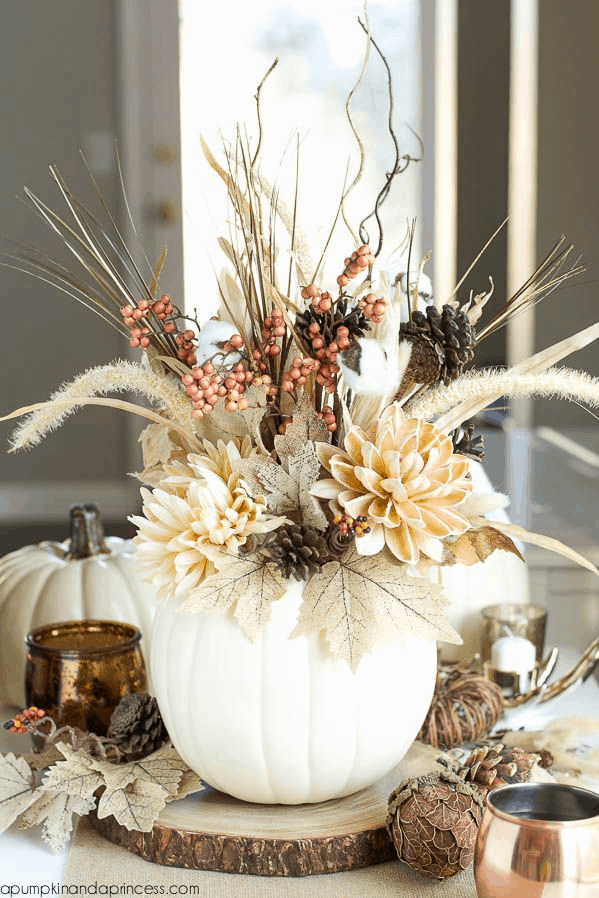 Pin
Decor for the holidays can become tired after a while, but a new and unique vase for your Thanksgiving centerpiece can help to spruce up the scene and may even become a talking point. Either way, it's sure to capture attention and leave a lasting impression.
Pumpkin Vase
There are a lot of ways to use a pumpkin as a unique table centerpiece. One way is to spray paint the pumpkin in a metallic color- silver or gold provide a chic, warm glow- and insert stunning flowers that do well against the metals.
A white pumpkin is also gentle enough to use different varieties of flowers. Or, just use the standard orange pumpkin. It will still be unique and eye catching, and with orange and green flowers it really lends a hand to the holiday.
Corn
That's right, corn. You can make a very unique centerpiece by painting (or not painting) husked corn and twining them together with a hollow center, where you're rest your flowers.
One easy way to do this is to find a plain, rounded glass vase and use that to create the structure and hold the flowers.
Dough Bowl
Dough Bowls are a primitive kitchen tool, yet they are rarely used as a centerpiece or vase. This connects them to the traditional nature of Thanksgiving while still adding a touch of modern decor and unique style.
Best recommendation is to center the dough bowl with candles and surround them with loose blooms. It will bring color to the table while keeping the centerpiece out of the direct view of those sitting across from you.
Size
Height and spread matters for a centerpiece. A tall centerpiece can be dramatic, and flowers and other items like wheat, pampas grass, and cat tails fan out, in addition to being tall and neutral toned. On the other hand, small flower arrangements for tables might be tasteful and less distracting- less likely to be moved off the table during dinner.
One way to maintain eye contact with all around the table while still enjoying beautiful table decor is to use plants that drape and spread- amaranth, (purple) fountain grass, veronica, celosia, muhly grass, and much more.
Drama
Similar to the section on size, we note that drama depends largely on size and color. With that in mind, choose flowers that fit your Thanksgiving theme and the style of the room.
For a rustic, romantic look, go for flowers in deep red, purple, or blue. We've mentioned celosia (also known as cocks comb) above and we'll mention it again. Dragon's breath celosia and flame purple celosia are both gorgeous additions to any flower arrangement.
If you want a more neutral, bohemian/farmhouse look, go for wheats mentioned above- cats tail, pampas grass, actual wheat.
For more color, muhly grass is both beautiful and expansive. It will easily provide the drama you're looking for without the need or help of other flowers. Sage, eucalyptus, verbena, dahlia, and snapdragon are all great choices.
Thanksgiving Pallet Box
A pallet box is a little like a shadow box, a picture frame filled with some of your favorite things. In the case of fall decor, a pallet box fills the center of the stretched tables we're all familiar with during Thanksgiving. They carry the theme of the holiday, without being overwhelming.
Typically, a Thanksgiving pallet box will contain candles (tall or wide), small pumpkins or gourds, fall leaves, fragrant herbs such as rosemary, cinnamon, or some pine. Country Living has a great example of a Thanksgiving pallet box (shown below).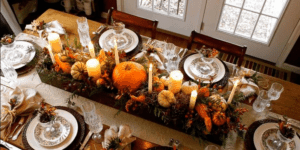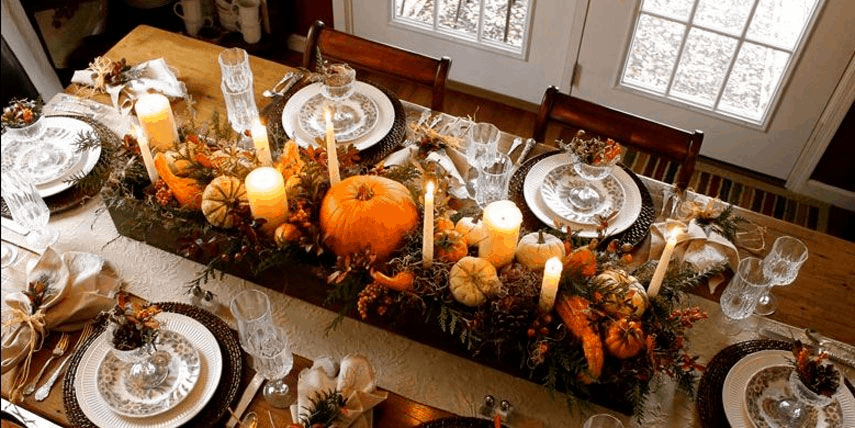 Pin
Cornucopia
A cornucopia is a traditional Thanksgiving centerpiece and decoration for thanksgiving, but that doesn't mean it hasn't stood the test of time. The wicker conjures up that real homely, country feel that resonates with the type of food we often eat at thanksgiving- the apple pie, the giant turkey… If you want a rustic, traditional theme for you decor, then a cornucopia is a great addition to your table.
Add a touch of modern or drama by filling it with mini pumpkins or flowers with deep colors, such as the deep red cockscomb, or brilliant orange marigolds.
Thanksgiving Wreath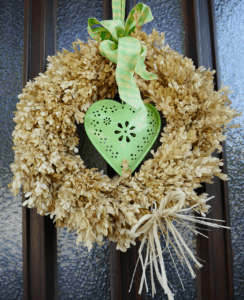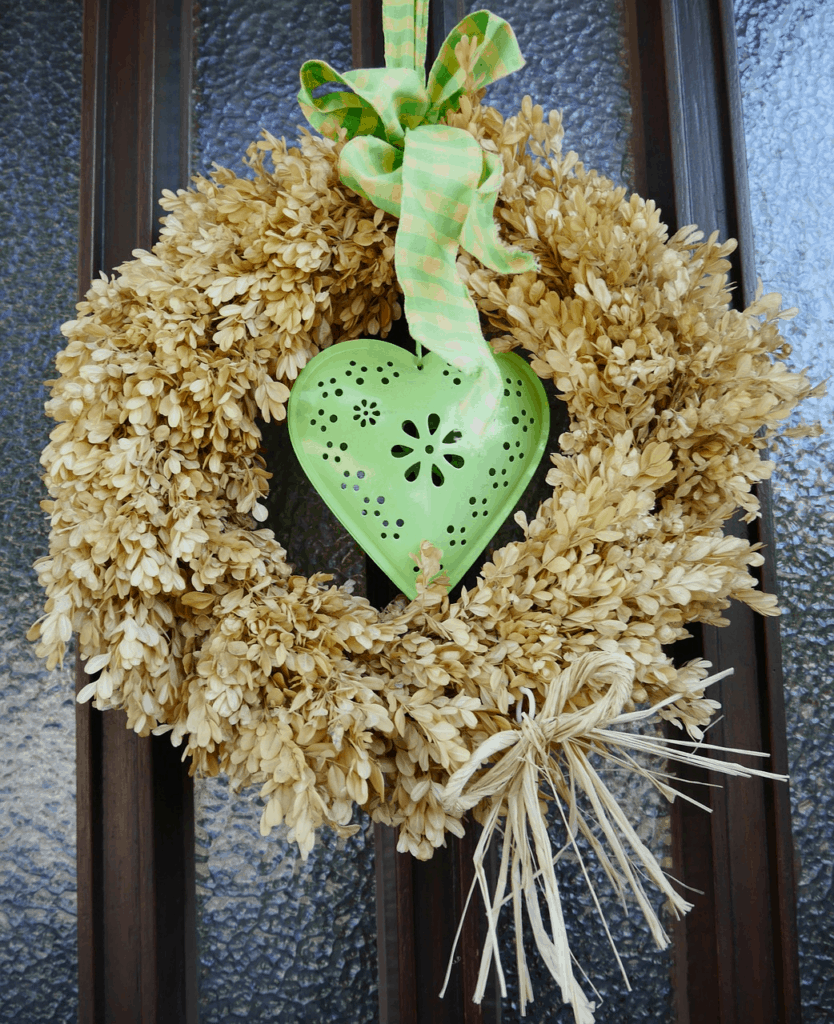 Pin
Pin
Over the years, the wreath has been used to welcome your guests and add warmth to the exterior of your home. While we are definitely fans of tradition, upgrades to a traditional decoration are always welcome, if only so they never go out of style.
During Thanksgiving, and the fall season, wreaths often come in warmer colors like red, yellow, and orange, but there are other variations. Here are a few design ideas for wreaths:
Solely cyprus hung by a colorful ribbon
Fall leaves
Fine cones
Acorn wreath
Other Thanksgiving Decorations
Decor largely depends on your Thanksgiving theme, however, there are a few decor ideas for the holiday that you should consider:
Thanksgiving table runner- patterns, or fine linen passed down generation, or linens that evoke the spirit of the holiday, divide the table, and designate the design space.
Candles- they're intimate, rustic, fragrant…
Pumpkins- you can use a pumpkin as your menu (write or carve), use them as candle holders, or arrange them on the table, bar cart, shelves, etc.
Fall fruit– apples, pomegranates can even be used in your table flowers
Pinecones-paint them or let them stand, they make great fillers and help to bring in that rustic/traditional vibe of Thanksgiving
Fall leaves- can be added to Thanksgiving floral arrangements for that extra pop of color and seasonal vibe.
Thanksgiving Flower Arrangements
Whether you're gathering flower arrangement ideas for the fall, holidays, looking for plants that bloom in fall, or are planning your garden for next spring, Flower Glossary can help. We have information on growing seasons, types of flowers, flower care, indoor plants, and more.